Forehead lift/Brow lift
Polluted environment, gravity and sun exposure lead to loss of skin elasticity. The result of it is sagging of the skin in the facial area.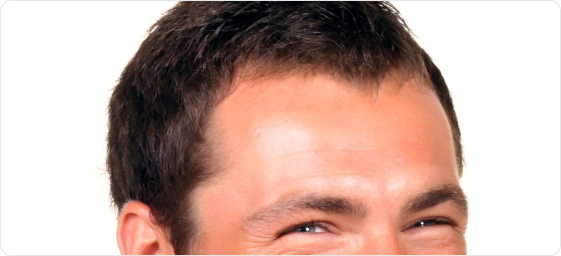 Prof. Mislav Gjuric, M.D., Ph.D.

German and Croatian board certified otorhinolaryngologist specialising in cosmetic surgery with emphasis on facial, head & neck plastic and reconstructive surgery; founder, director and head of practice at Sinteza Clinic in Zagreb
Professor of Otorhinolaryngology at the FA-University of Erlangen, Germany; former Professor and Vice-Chairman of the Department of Otorhinolaryngology at the J.W. Goethe University of Frankfurt, Germany
Professor and Chairman of the Department of Otorhinolaryngology and Head & Neck Surgery at the University of Zagreb, Croatia; active member of numerous medical associations around the world
How is a forehead lift/brow lift done?
An incision, from one to the other ear, is made, a little above the natural hair line. In case of a high forehead, the incision can be at the hair line to reduce the distance between eyebrows and the hair line. Soft tissue is carefully lifted up to the root of the nose. Now we can relax or remove the forehead muscle. Thereafter, we symmetrically rise the eyebrows, and excess skin gets removed.

What happens before a forehead lift/brow lift?
Your doctor will inform you about the procedures, which can be combined with forehead and brow lift, during consultation. You will be instructed not to eat or drink in the six hours preceding the surgery. The surgery is done under local and regional anesthesia, and lasts from two to five hours. Before and after the surgery, you must restrain yourself from smoking and avoid taking blood thinners (consult your general practitioner).
What happens after a forehead lift/brow lift?
After the surgery the surgeon places bandages and drainage tubes to remove the secretion from the wound, till the next day. The bandages will be removed after approximately five days, and your hair will be washed by a hairdresser, following certain rules. Part of the sutures will be removed after six days. A week later you have to come for a check up, and to remove sutures and metal clips in the hairline. In case of greater swelling, you generally undergo a lymph drainage and a gentle massage. You should absolutely avoid sauna, vapor-baths and sunbathing, as well as sport activities and hair dyeing.
What are the result of a forehead lift/brow lift?
Two weeks after the surgery, you will be able to go public, and you will be able to enjoy going out with your friends after three weeks, and ten to twelve weeks after the surgery you will get back normal sensation in your face. It would last approximately three months until a definite appraisal of the surgery success can be given. Forehead lift/brow lift can be combined with other facial surgery as e.g. eyelid surgery or wrinkle iron around the mouth.
What are the risks of a forehead lift/brow lift?
As with any surgical procedure, there are certain risks, about which you will be informed in detail, during your consultation with the surgeon.
Surgery duration: 2 - 5 hours
Hospitalization: 1 day
Check up and release: 7 - 10 days
Note: